Copy and Paste following link in your browser
https://schoolnutrition.org/uploadedFiles/2._Meetings_and_Events/NSBW_2016/Pages%281%29/NSBW2016Backpack.pdf
schoolnutrition.org
*Check out Nutrition Nuggets under HPS Newsletters*
PRIMARY SCHOOL
Pricing for 2018-2019 School Year
Breakfast Lunch
Student FREE 1.90
Faculty & Staff 1.35 3.25
Visitor 1.50 4.00
Benefits of Breakfast
Eating breakfast can help improve math, reading, and
standardized test scores.
Children who eat breakfast are more likely to behave better
in school and get along with their peers than those who do not.
Breakfast helps children pay attention, perform problem-solving
tasks, and improves memory.
Children who eat school breakfast are likely to have fewer
absences and incidents of tardiness than those who do not.
By eating breakfast, students get more of important nutrients,
vitamins and minerals such as calcium, dietary fiber, folate and
protein.
Studies have shown that children who eat breakfast on a regular
basis are less likely to be overweight.
Eating breakfast as a child is important for establishing healthy
habits for later in life.
Schools that provide breakfast in the classroom to all students
have shown decreases in tardiness and suspensions as well as
improved student behavior and attentiveness.
What you eat for breakfast can have an impact on learning. One
study showed that eating breakfast food high in fiber and low in
sugar for breakfast helped students sustain the cognitive effects
of breakfast.
School Breakfast provides ¼ the recommended amounts of
protein, calcium, iron, vitamin A, and vitamin C for the day.
================================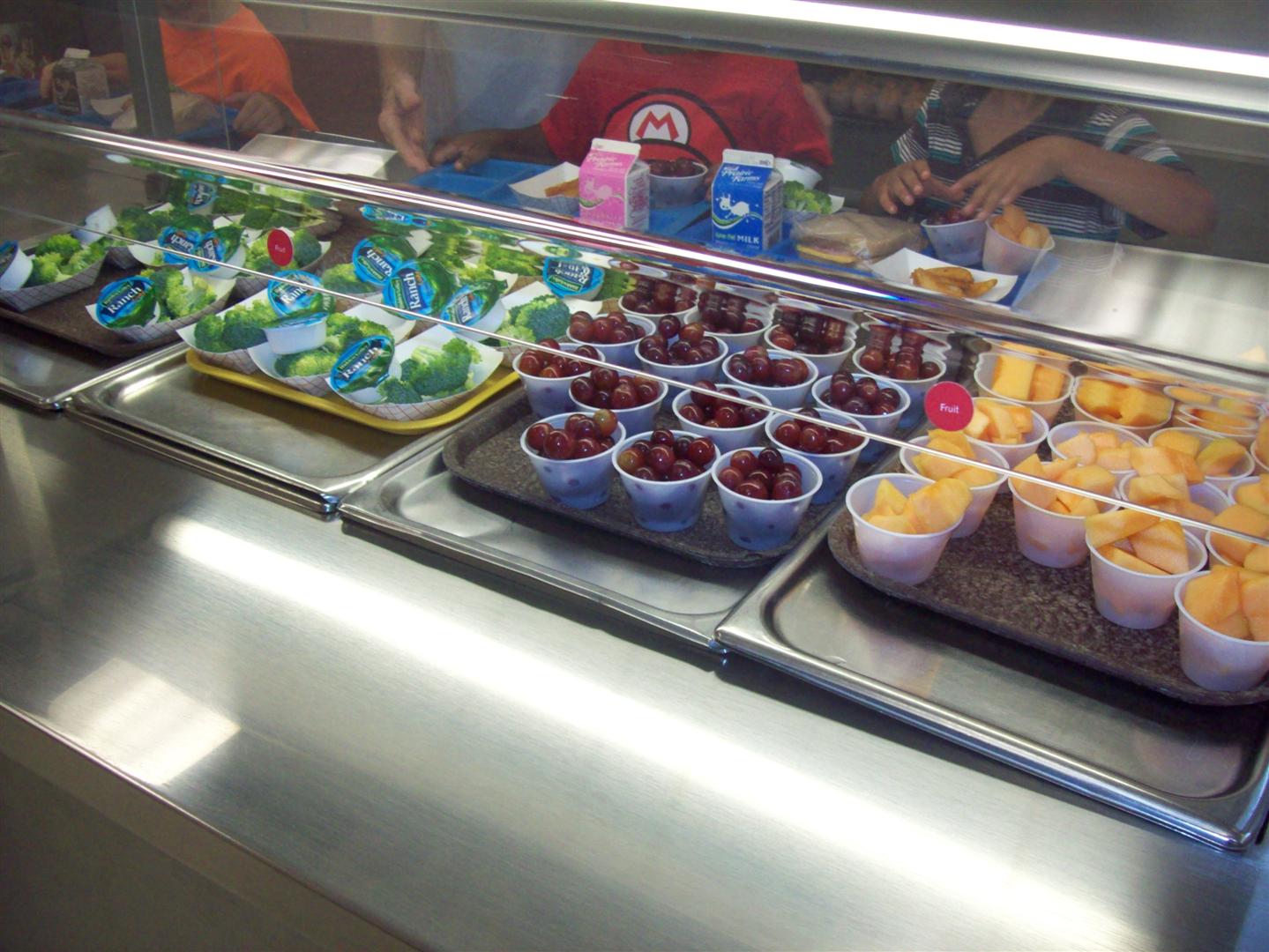 Breakfast is served daily!
The cost is FREE for students and includes a milk and juice. Breakfast is served from 7:10-7:45 a.m. If you wish for your child to eat breakfast at school, please have him/her at school by 7:30 a.m.
Lunch is served daily!
The cost of a school lunch is $1.90. Milk is included with the cost of the meal. Meal times are as follows: 1st grade 10:40-11:10, Kindergarten 11:15-11:45, 2nd grade 11:50-12:20 and 3rd grade 12:25-12:55.
The lunchroom would rather parents pay for lunch by the month. Please make checks payable to: Food Service. Free and reduced priced lunches are available for those who qualify. Forms are available at registration and in the school office.
Parents are invited to eat lunch on their child's grade-assigned day of the week for a cost of $4.00 per person. Please sign in at the front lobby and wait for your child's class at the cafeteria doors. You and your child need to eat the cafeteria food rather than food from restaurants. We enjoy having you eat with us, and your child really enjoys having you!
==================================================================================
===================
*****Special NOTE*****
=================================
Check out this link for some great nutrition ideas!
Review and download these resources and use them to motivate moms to offer
whole grains, low-fat milk and fruits and vegetables as part of family meals and
snacks! Click here: www.fns.usda.gov/fns/corenutritionmessages/
=========================================================================================
In accordance with Federal civil rights law and U.S. Department of Agriculture (USDA) civil rights regulations and policies, the USDA, its Agencies, officer, and employees, and institutions participating in or administering USDA programs are prohibited from discriminating based on race, color, national orgin, sex, disability, age, or reprisal or retaliation for prior civil rights activity in any program or activity conducted or funded by USDA.
Persons with disabilities who require alternative means of communication for program information (e.g. Braille, large print, audiotape, American Sign Language, etc.), should contact the Agency (State or local) where they applied for benefits. Individuals who are deaf, hard of hearing or have speech disabilities may contact USDA through the Federal Relay Service at (800) 877-8339. Additionally, program information may be made available in language other than English.
To file a program complaint of discrimination, complete the USDA Program Discrimination Complaint Form, (AD-3027) found online at: http://www.ascr.usda.gov/complaint_filing_cust.html, and at any USDA office, or write a letter addressed to USDA and provide in the letter all of the information requested in the form. To request a copy of the complaint for, call (866) 632-9992. Submit your completed form or letter to USDA by:

(1) Mail:
U.S. Department of Agriculture, Office of the Assistant Secretary for Civil Rights, 1400 Independence Avenue, S.W., Washington, DC 20250-9410
(2) Fax: (202) 690-7442
(3) Email: program.intake@usda.gov
This institution is an equal opportunity provider.
=========================================================
HUNTINGDON SPECIAL SCHOOL DISTRICT
Keep updated on the changes at www.fns.usda.gov/healthierschoolday.
Regards,
Jean Caton
Huntingdon Food Services Supervisor